Le monde fantastik du CDPLAYER.INI
The fantastik world of the CDPLAYER.INI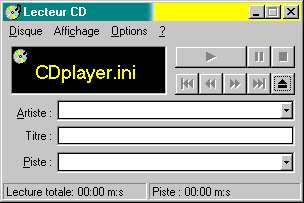 Si vous m'envoyez votre fichier cdplayer.ini par mail (il est dans le repertoire windows de Win95) ca me ferait vraimment plaisir... Ici les cdplayer.ini disponibles.

Oł est cdplayer.exe me direz-vous ? Et bien il est dans les accessoires multimedia de windows.

Please mail me your cdplayer.ini. It's in your windows directory of Win95. It contains the description of audio CD you play... Here is my cdplayer.ini.

The Juno-106 Connection
DELPHI programs
Questions about CdPlayer.INI
The best :-)